Genre: Comedy, Drama, Romance
Director: Nitesh Tiwari
Top-Cast: Sushant Singh Rajput, Shraddha Kapoor, Varun Sharma
Writer: Piyush Gupta, Nikhil Mehrotra, Nitest Tiwari
Synopsis – Chhichhore is an Indian Hindi language Comedy, Drama, and Romance film which was released theatrically from 06th September 2019. This film is directed by Nitesh Tiwari, and written by Piyush Gupta, Nikhil Mehrotra, Nitest Tiwari, and produced by Sajid Nadiadwala under the banner of Nadiadwala Grandson Entertainment.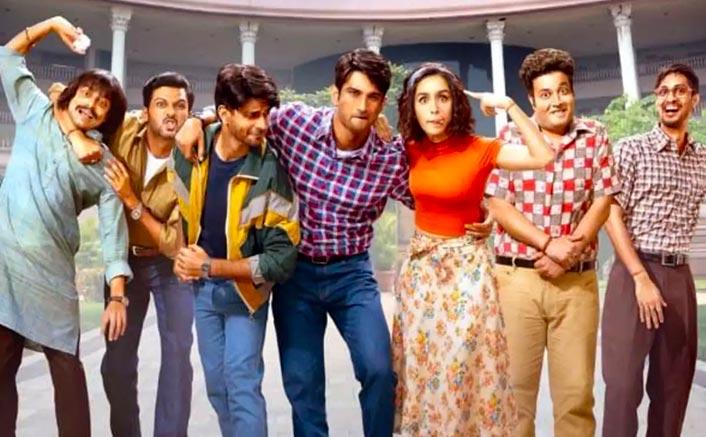 The music in this film is composed by Pritam (Songs), and Sameer Uddin (Background Score) while the cinematography and editing is handled by Amalendu Chowdhury, and Charu Shree Roy respectively. The film stars who roped in this movie are Sushant Singh Rajput, Shraddha Kapoor, Varun Sharma, Naveen Polishetty, Tushar Pandey, Tahir Raj Bhasin, Prateik Babbar, Saharsh Kumar Shukla, Shishir Sharma, and Mohammad Samad.
The runtime of this film is around 143 minutes and this film was made with the budget of rupees ₹50 crores and collected almost ₹215 crore rupees. This film is distributed in India by Fox Star Studios.
The story of this film is based on Anirudh Pathak aka Anni who is a middle aged divorced man living with his teenage son Raghav Pathak. Raghav is an aspiring engineer, who is awaiting for his results of the entrance examination in the hope of enrolling at the Indian Institute of Technology. On the eve of result day, Anni gives Raghav a bottle of Champagne promising that they will both celebrate his success together. Anni was not aware that Raghav is under intense pressure. Raghav sees his result and not get qualified for the IITs and then he attempted to commit suicide but survives in the fatal state. Then the story of this film takes a turn and Anni calls his college friends and then the story runs in the past of their college days.